TAKE YOUR TEAM TO NEW HEIGHTS!
10.12.18 – 10.13.18
Sheboygan, WI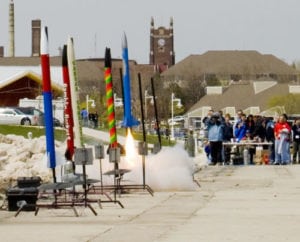 Join us for a weekend of fun beginning with a
Friday night meet-and-greet to present team
concepts and finished rockets. Rockets are
launched the next day, followed by a
review of stats and award ceremony.
Schedule:
10.12.18 6pm-9pm
Friday night meet-and-greet
Team presentations
Location: 3 Sheeps Brewing Tap Room, 1837 North Avenue, Sheboygan, WI 53083
10.13.18 10am-12pm
Official rocket launch
Location: 229 South Pier Drive, Sheboygan, WI 53081
10.13.18 2pm-4pm
Post-launch stats review
Award ceremony
Location: Pier 17, 539 Riverfront Drive, Sheboygan, WI 53081
Awards will be presented for the following:
• Concept presentation
• Best branding/design
• Payload challenge
• Performance challenge
To find out how you can register a team, please
contact us at 210-595-0725.
For more information about the corporate rocket launch challenge, to learn about sponsorship opportunities, or for media inquiries, download the event flyer at the following link:
2018-10–12 Corporate Rocket Event 2018-10–12 Corporate Rocket Event
visit our Facebook page:
or contact Spaceport Sheboygan's Executive Director:
Brian Ewenson
Email Brian
(210) 595-0725